How to access your Template Parameters
This tutorial applies to the following templates:
Juliet

Kaylee

Renita

Kinvara

Colette

Maya

Grace

Magnolia

Harmony

Verona

Kodaline

London

Hannah

Elvira

Valencia

Serenity

Chelsea

Scarlett

Trinity

Willow

Caitlin

Nadia

Beaumont

Ashley

Fedora

Artisan

Creative

Revolve

Madison

Florence

Vitality

Enterprise

Boutique

Stockholm

Alexis

Central

Boss

Journal

Enlighten

LifeStyle

Habitat

Grafik

Brooklyn

Cashmere

Virtuoso

Polaris

Calibra

Renovate

PianoForte

Kindle

LetterPress

Impulse

Nocturne

Metropolis

Clarity

Substance

Privilege

Resonate

Arkadia

Presence

Evolution

Catalyst

Executive

Bordeaux

Novation

Specialize

Chimera

Avenue

Rendezvous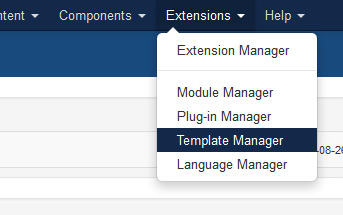 Your template parameters can be accessed directly from your Joomla administration by simply clicking a template style of your template within your 'Template Manager' (Extensions -> Template Manager -> [YourTemplateStyle]).
When you install any template in Joomla a default template style is automatically created for that template (YourTemplate - Default) however more styles can be created for that template by simply clicking the Save as Copy option from within your templates parameters. These styles can in turn be applied to the menu items of your choice via the Menu Assignment tab. This will allow you to assign different template settings to different pages across site.