Willow - A Stylish Ornate Template Solution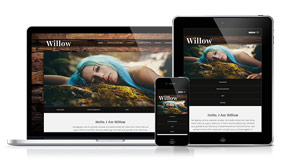 With the summer well and truly upon us we are happy to announce the release of our Willow Joomla template. With its carefully crafted textures, gradients and shadows, Willow offers a stylish and ornate solution for your next Joomla project. This boxed template design will give your website a unique feel and ensures it stands out from the crowd of your competitors and provide the perfect base to build your project.
A fixed header allows your sites main menu and logo to be always in view ensuring easy navigation and brand placement throughout your site. Menu navigation to swapped out with a touch friendly version on smaller screen devices allowing the best possible user exsperiance on all devices.
Willow includes our popular NavSlideshow module which brings an easy to navigate image slideshow carefullt style to blend with the rest of the template design. This fully responsive solution is super easy to use and quick to set up directly.
Other bundled module extensions include our Thumbs Gallery module which allows you to create on the fly galleries in any module position with each image opening in to a responsive modal lightbox when clicked, our Icons module which lets you quickly add icons with a title and caption text and our versatile Carousel module which allows you to easily add any content in to a rotating carousel.
This months release continues to provide extensive layout capabilities and styling options with a massive 58 module positions to choose from. Customisable module widths allow you to proportion your modules to match perfectly with your content. A host of coloring options allow you to quickly customise almost every element of your design giving you full control of the look and feel of your project.